Raglan Motor Inn, Warrnambool, VIC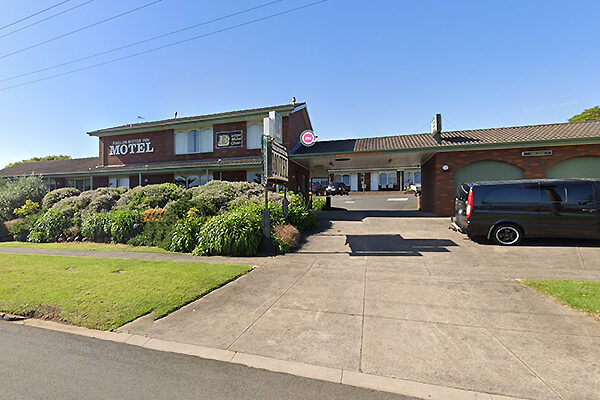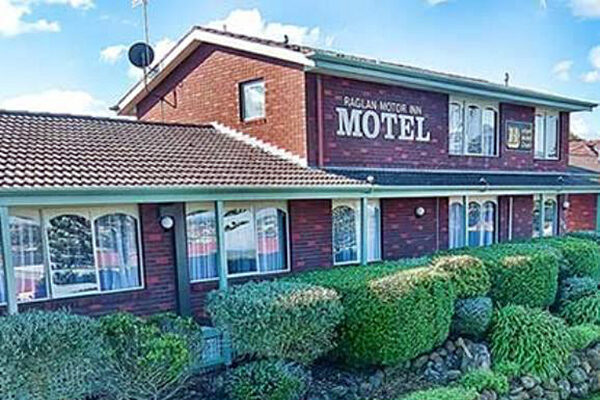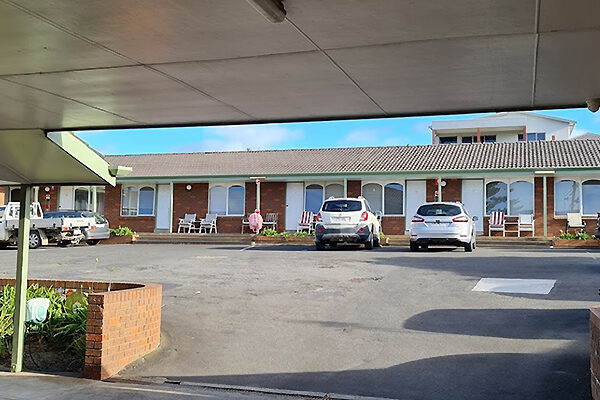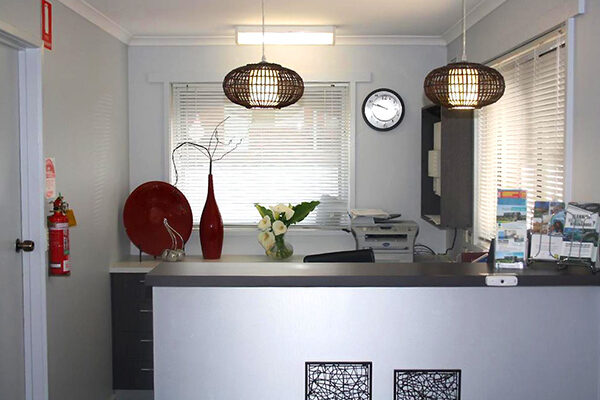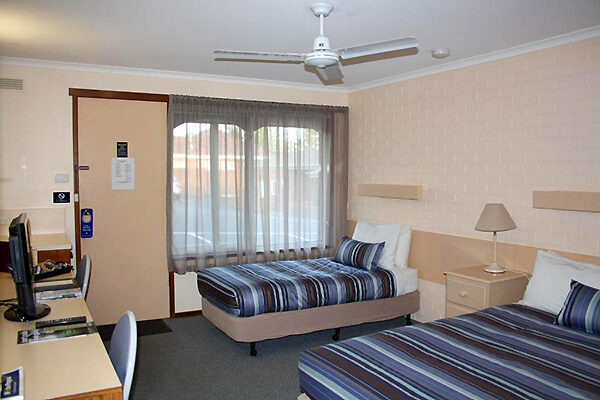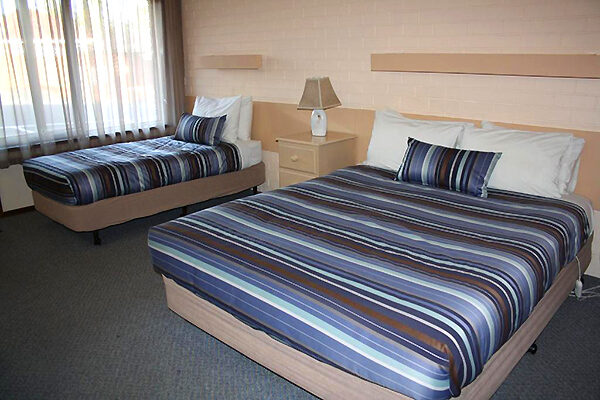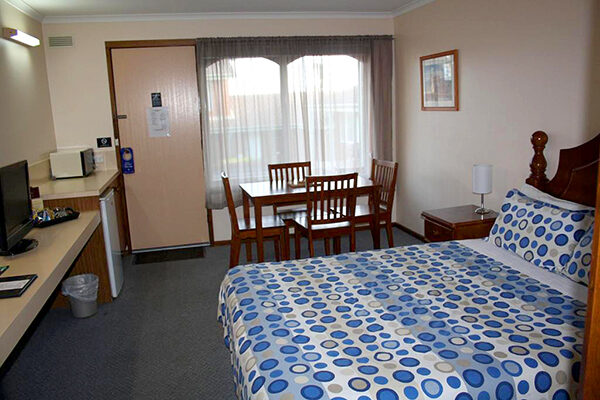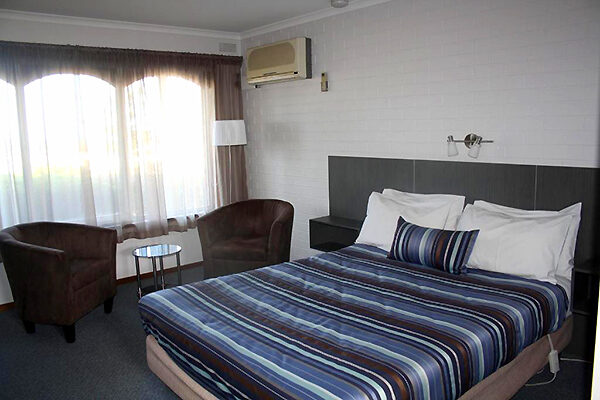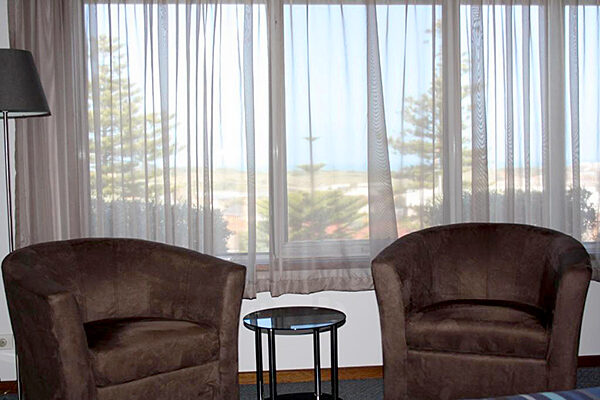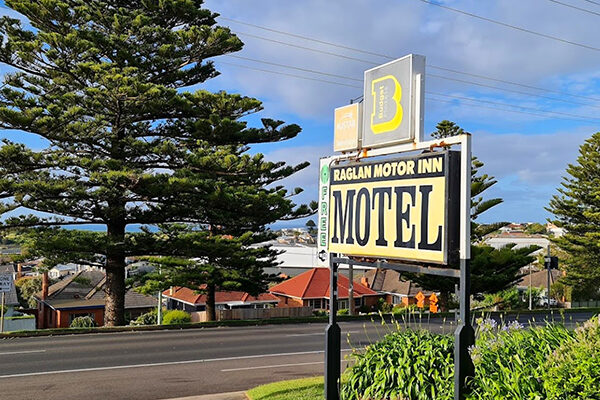 Welcome to the Raglan Motor Inn
The highly-rated and popular Raglan Motor Inn is in a fantastic location close to stunning Warrnambool beach and all local amenities. The motel can accommodate single guests to families, offering a BBQ area with outdoor seating, convenient guest laundry facilities, secure luggage storage area and free parking on-site. All rooms are non-smoking and feature air-conditioning, free Wi-Fi, flat-screen satellite TV and DVD player, toaster, mini bar, tea and coffee making facilities, ironing facilities, private bathroom and, of course, free parking. 
Your friendly hosts are happy to share their insider knowledge about the area, ensuring you make the most of your visit. Plus, you can look forward to delicious breakfast options delivered straight to your room, seven days a week, so you can kickstart your day in style. 
Attractions nearby
Raglan Motor Inn is within minutes of the Train Station, Stadium, Cannon Hill Lookout, and scenic Hopkins River.
Bathing Beach runs in front of vast Lake Pertobe Adventure Park with a beautiful foreshore walk bordering the sea. Nearby Flagstaff Hill Maritime Village explores the area's seafaring history through historic buildings and large shipwrecks with a stunning sound and light show in the evening. Don't miss beautiful Logans Beach with it's Whale Watching Platform, as almost every year between June and September, female Southern Right whales return to the waters of Logans Beach to calve, and often swim close to the shore.
The Breakwater is a spectacular place to enjoy panoramic views, and Thunder point Coastal Reserve, with its rocky ocean scenery, encompasses Shelly Beach. Stunning Bay of Islands is a must visit. Get up close and with native animals at Warrnambool Wildlife Encounters, relax in the Botanic Gardens and catch a bargain at the wonderful antique market. With 50 National Trust buildings, historic Port Fairy has many great pubs, cafes and restaurants and offers some amazing surfing opportunities.
Driving distance guide from Warrnambool
Hamilton
98 km – approx. 1 hour 10 minutes
Ballarat
172 km – approx. 2 hours 5 minutes
Melbourne
258 km – approx. 3 hours 15 minutes
Raglan Motor Inn
376 Raglan Parade, Warrnambool, VIC 3280
Lisa
Quiet · Value · Service
Upon arrival we we're greeted by host. Friendly service, very accommodating. Room is Super clean, very well presented. Would not hesitate to recommend this business to friends & families
Jodi
Room · Service · Location
Nice big sized room. Bed comfortable & shower spacious with great water pressure & hot water. Lovely greeting by Ian & made to feel very welcomed.
Sue
Room · Service · Location
Very surprised by the whole experience. Really a fabulous price for the accomodation, service & help we received from the owner(Ian). Very accomodating to all our needs (especially our dog). Older motel, but spotless & updated quite a few things. Thankyou Ian for making our overnight stay so relaxing. Goodluck with your family. 👍
Malay
Room · Service · Location
We stayed at this motel for 2 nights (10 - 12 June 2023) during the long weekend. This is a clean tidy comfortable motel and a nice place to stay in Warnambool. Located not too far from the city centre, there are restaurants, fast food outlets (kfc, hungry jacks, pizza shops) and service centres etc nearby. Famous attractions like the Whale watching platform and historic Hopkins river bridge etc are also not too far from this motel. There are some nice fishing spots nearby too, for a bit of relaxing pass time. The host/manager (Ian) is a really nice bloke with an unique sense of humour 😆
Michael
Clean · Service · Location
Great old-fashioned service! Called ahead and spoke to Ian, sorted a room last minute at a competitive rate. Was fantastic to deal with, offered fresh milk on arrival and asked if I needed anything else to make my stay more enjoyable. The room was clean, hygienic and extremely comfortable. I come through for work, the raglan inn now become my regular accommodation. Cannot recommend highly enough.